Ferry Booking & Bike Slot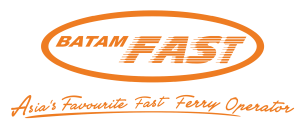 Batam is a short and comfortable 30-minute ferry ride from Singapore on the Batam Fast service from Tanah Merah Ferry Terminal to Nongsapura Ferry Terminal (Nongsa). You can book your ferry ticket and request a bike slot in one easy process.
Batam Fast offer a range of ferry timings to suit all personal and racing requirements.
If you want to head home to Singapore after the Olympic Distance Triathlon on Saturday, then select the Batam Centre to Harbourfront route on Batam Fast. There are 1900 and 2030 ferry timings. Note that it's a 30 minute drive from the race venue to Batam Centre ferry terminal.
Whichever ferry timing you choose, remember to book a bike slot!
For enquiries contact reservations@batamfast.com or WhatsApp +62811 3800 2288
Notes:
1. Bike slots are limited for each ferry and need to be booked in advance. Athletes book a bike slot online when booking ferry ticket, or by emailing reservations@batamfast.com or sending them a WhatsApp at +62811 3800 2288 with details of passenger name, ferry booking reference, how many bikes. This must be done by midnight tonight.
2. You will need to arrive at the ferry terminal at least 2 hours prior to ferry departure.
3. All athletes who have booked a return bike slot must pay SGD13 at the Batam Fast ticket counter at TMFT when collecting their ferry tickets.
4. Luggage collection at Nongsapura: Please collect your own luggage out from the ferry and carry it to immigration with you. Failure to do this will incur a porter fee of SGD1 per item payable in cash.
INTERNATIONAL TRAVELERS ARRIVING AT SINGAPORE'S CHANGI AIRPORT
This is a 10-minute taxi ride from Singapore's Changi International Airport. Maxi-taxis are available at the airport that easily fit your luggage and bike box.
Transfer To & From Hotel
If you are staying at a partner hotel you will receive transfers for yourself and your bike from Nongsapura Ferry Terminal to the hotel. Hotel shuttles will also run to and from the race venue (schedules will be available prior to the race).